Art Wedding photography and Film
In the world of marriage, there are many styles of photographers. The Fine Art Style is a style that has been in full expansion for some time. Photographers such as José Villa in the United States, Xavier Navarro, Greg Finck in France are the representatives of this movement, and what characterizes this style are the bright, pastel, natural and soft images. The textures are sublimated. Romantic colours, digital photography evolves on a daily basis. This has an impact on the way photographers take a picture. Many of them are professionals, and some are artists. All over the Internet, we are witnessing the rise of those who call themselves art photographers. But what is art photography? What is it used for? What are its advantages?
What's the Film Fine Art Wedding photography ?
There does not seem to be any explanation or definition of what art photography means exactly. On the other hand, a photographic art involves characteristics and techniques that cannot be denied; before the work becomes an art, the artist must have a vision of the final result. Fine arts are above all an artistic idea, a message, an emotion. The artist must transcribe through a photo, what he wishes to transmit. Art photography involves talent, but also a great technique, because what the photographer creates, his vision, his ideas and especially his result must be coherent.
The advantages of Fine Art photography
Fine Art photography cannot be learned with a diploma. It is above all a profound reflection, associated with careful work. The photographer works on his message, but above all on his motivation. What the image offers is just as important as the subject and must be directly related to the message. A minimum of technique is obviously essential, but not as important as it seems. What will make an artistic photograph is a real link between the photographer and his lens, and his shooting, and his environment. It is a true artistic statement, nourished by a passionate photographer. It brings a deep meaning to an image to convey a strong and intense emotion; this message, this idea, can be a simple word, or even a whole statement. This is why this art photography technique can be ideal for a wedding photo report. Whether it is a black and white or colour print, photographic art makes you shiver. Often far from abstract art, this photographic technique is part of the history of photography and the visual arts.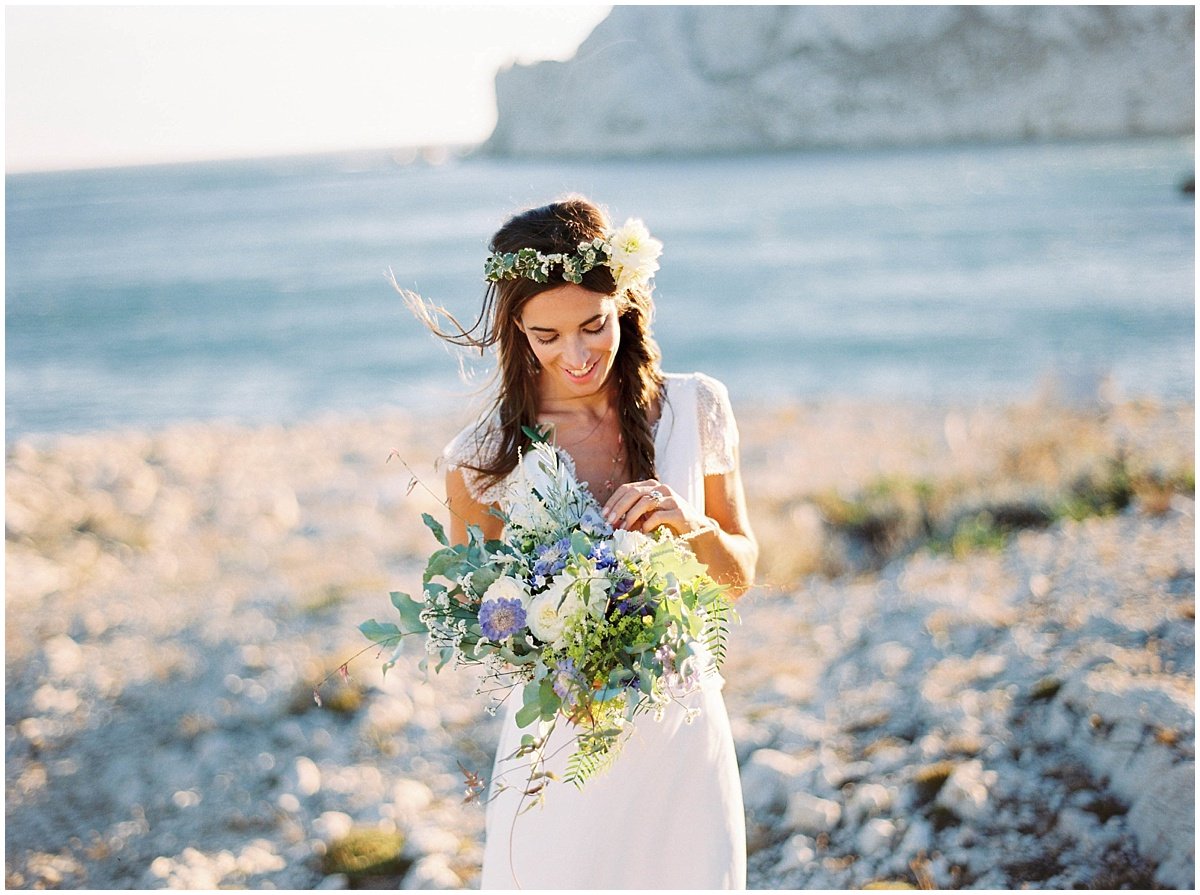 Your wedding report in Fine art photography
The professional photographer creates a real work of art, thanks to a contemporary and deep photography. Whether in landscape or portrait, art photography is often large format. This artistic photographic technique does not always require retouching, but a precise photo exhibition and an art print. Whether it is for a photo book, or a print run, your wedding becomes a wonderful memory, thanks to the beauty of art photography… Your photos are worthy of an art gallery in which the best contemporary artists exhibit. This trendy photography technique magnifies digital photography and promises a top-of-the-range result.
Some examples of Fine Arts seen on the web
And below, you will find some examples seen on Pinterest from various sources such as Style me Pretty Blog, Magnolia Rouge, photographer Erich McVey, Greg Finck, The Artisan Photographer, among others. All this to better show you which style I prefer.
So, Why the Old Film rolls photography ?
Despite the progress of our digital cameras, it is now difficult to achieve the same level of quality as the rendering of a silver film developed by a laboratory like Carmencita Photo Lab in Spain for example.
The silver film brings something more natural, softer and more contrasting. Chemistry reacts differently from an electronic sensor. A film is able to take all the nuances of an image when the digital camera derives its white balance in a software way. The film Argentique also has a technical particularity. He captures the highlights in an incredible way. In other words, the strongest, whitest and brightest lights are no longer all white as with a digital camera. Laboratories are able with the film to find a whole series of details in the images. For all these reasons, the film thus offers a more qualitative, brighter, more authentic rendering, like a fake leather and a real leather. From a distance it's the same, but once in the hand before our eyes, it's incomparable… Here are some comparisons between digital (Nikon DF) and silver (Contax 645):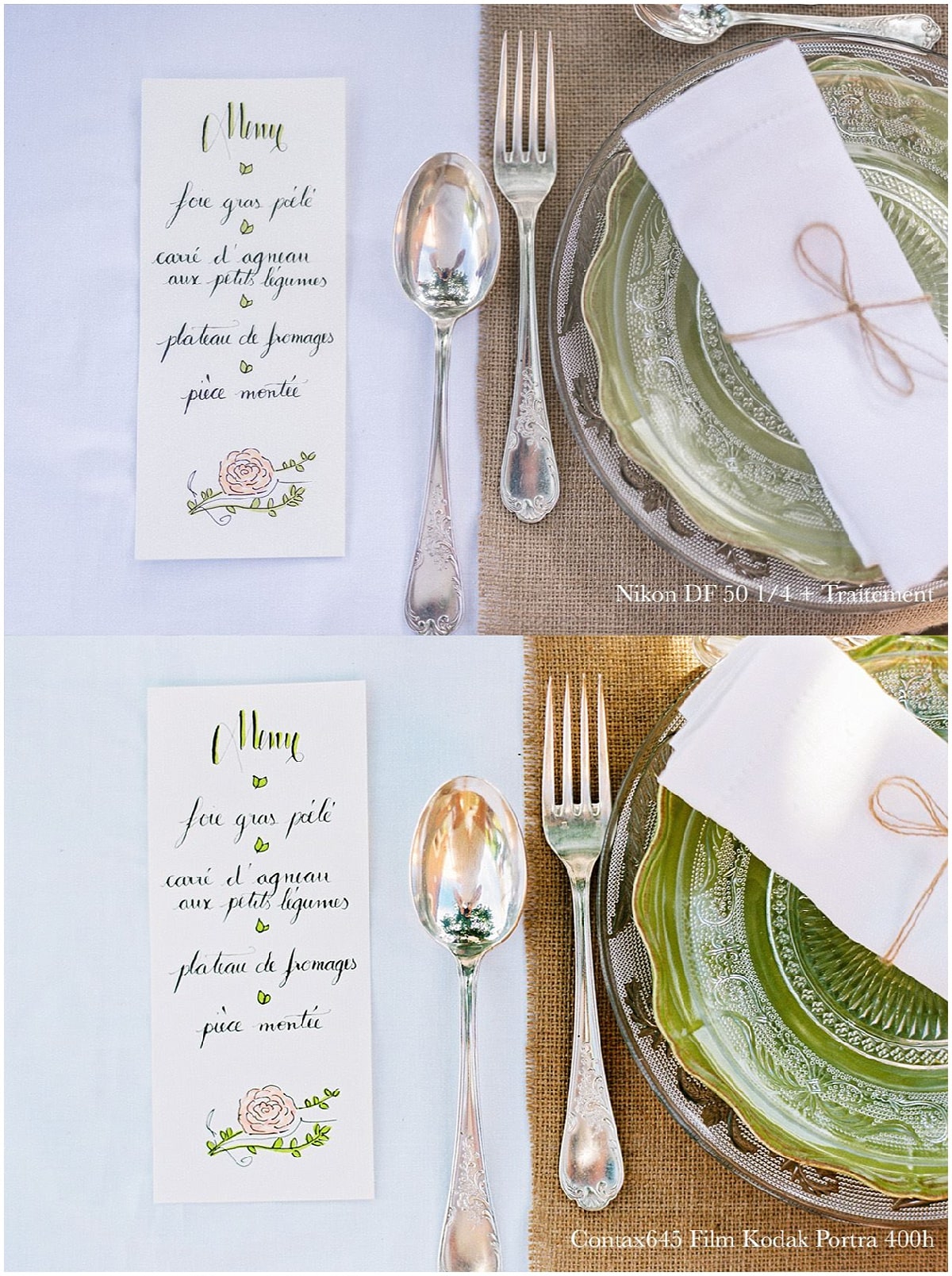 On this image taken during a wedding in Saint Tropez, I worked in Argentique (left) and Digitale (right). Although I have processed my digital image to be close to my Argentic look, we can see here that the greenery behind the dress is more natural and colorful on the film, like the shadows on the ground that have kept their more blue appearance.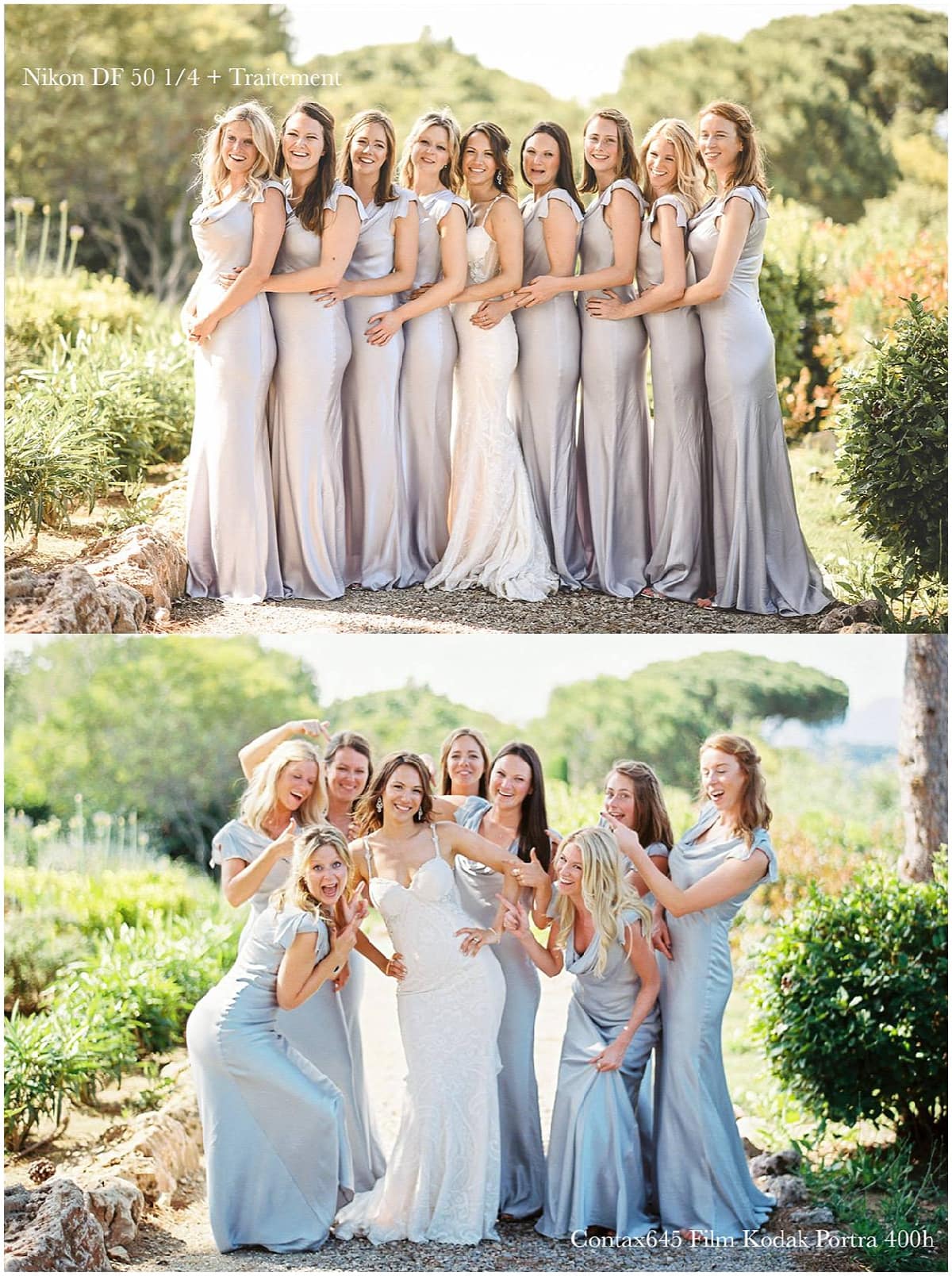 For example, here the difference in color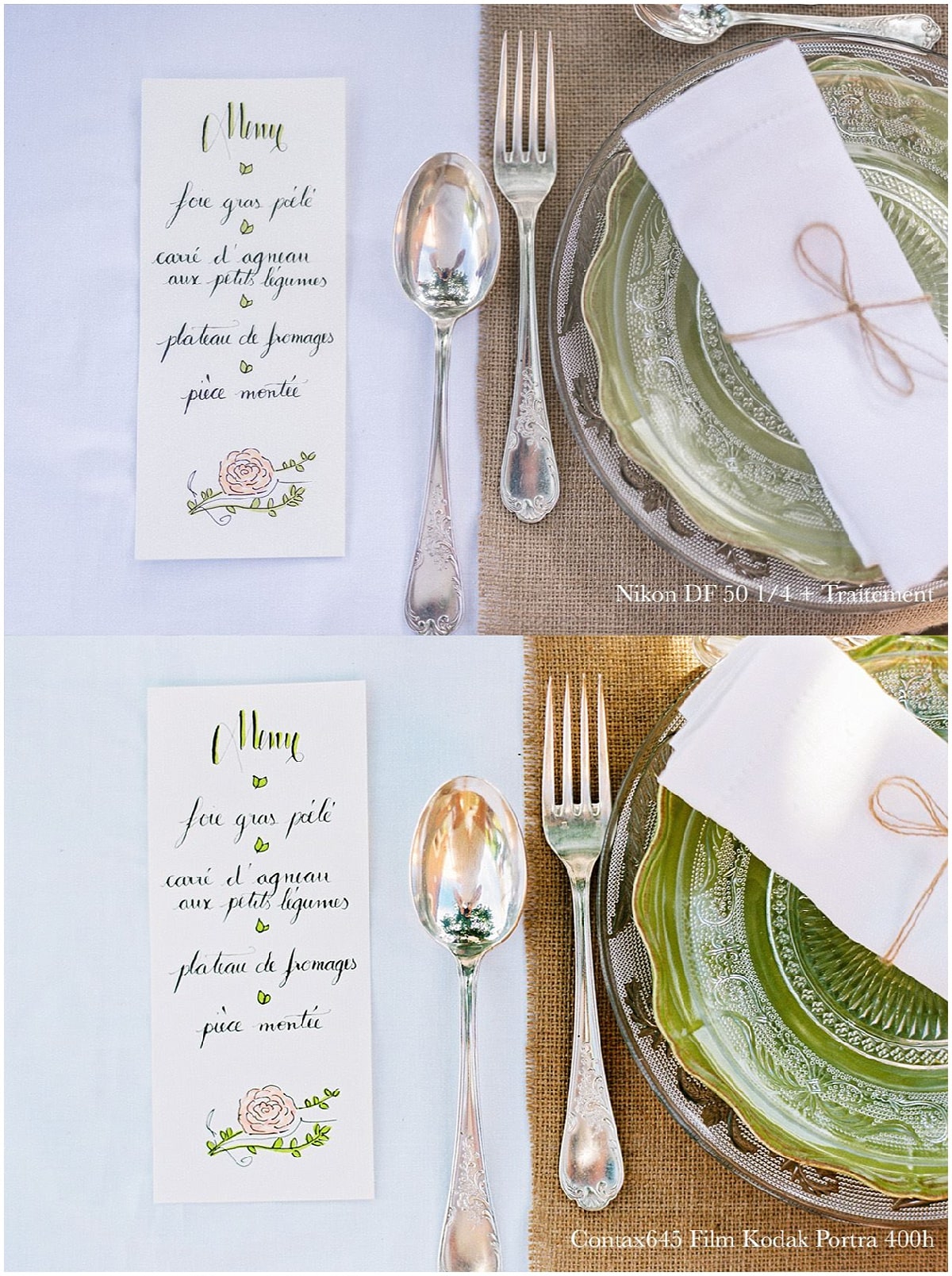 Above, the difference in sharpness, the reflections in the spoons are incomparable.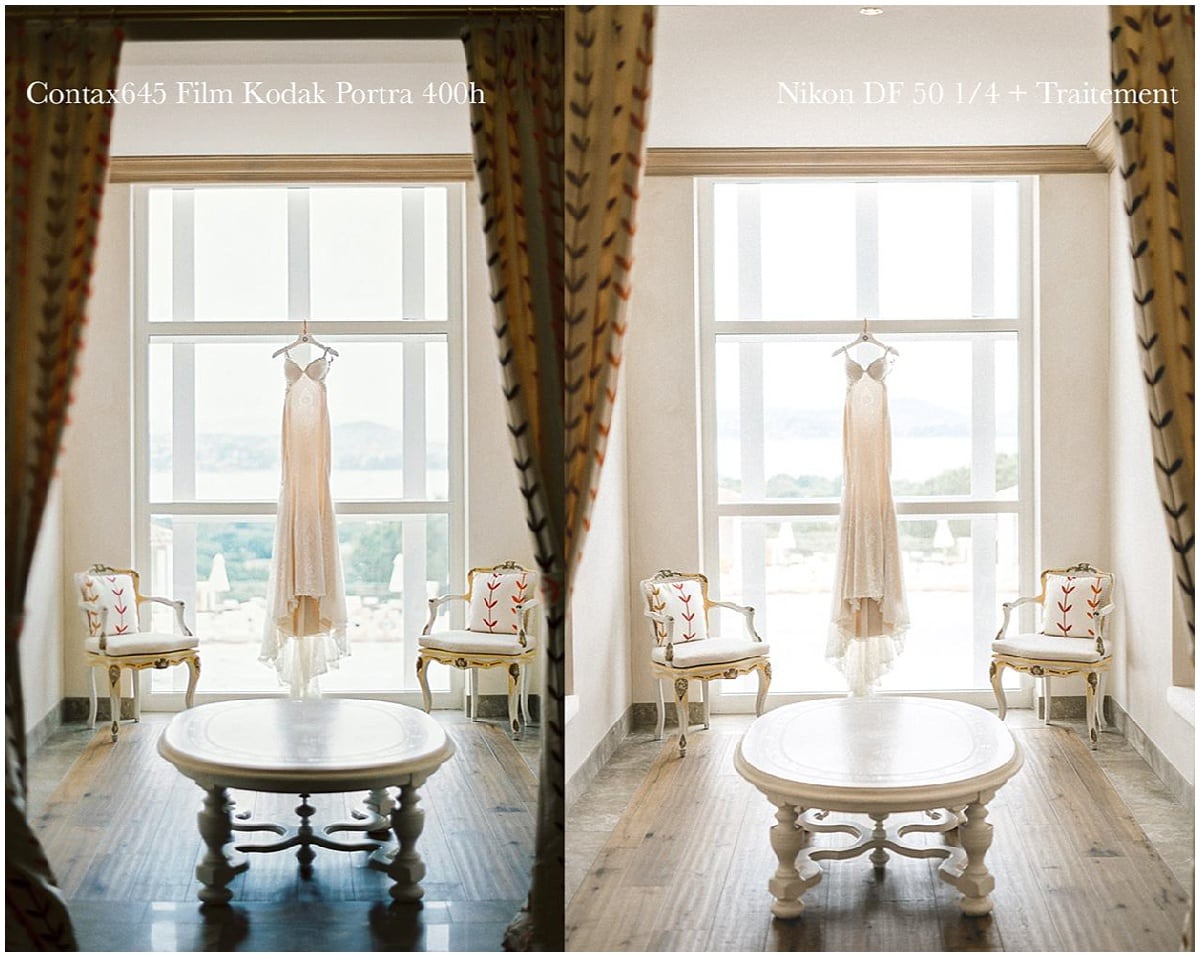 And finally, even without the color rendering, the details of the curtain fabric show how much a silver film sees more than a digital sensor, and finally, one last one. 3 photos taken in London and Saint Tropez at different times and situations. You will notice beyond the beauty of the images the coherence and homogeneity of the rendering. All these images are processed by the same Carmencita photo laboratory.